I always wonder why the bun sold in Chinese or Asian bakery always stay soft and moist even after days.I even bought bread improver to add into the dough when I make bun but the texture is nothing like the bun I bought in Chinese bakery..Well,I saw many blogger especially the pro-baker blogger who use tangzhong starter "湯種"or Water roux starter to make wonderful and long-lasting freshness bread. I always said I want to try tangzhong or water roux method when making bun or bread but don't have urge and opportunity until now.
When I saw Angies posted Twisted Wienerwurst Buns in her blog,I promised myself I'm going to try out her recipe!! yes that right!! The result of the bun is really great and awesome!! For those who loves soft,moist and spongy bun ,this tangzhong starter or water roux starter method recipe is worth to try!! Of course I adapted her recipe slightly to suit my taste..I added shredded cheese on the topping since my family loves cheese!!Here we called wienerwurst as hot dog or sausage or frankfurter,so I'm going to called mine as Twisted Sausage Bun!! Thank you Angies for sharing your wonderful recipe!! This recipe is a keeper!!
Ingredients:(A)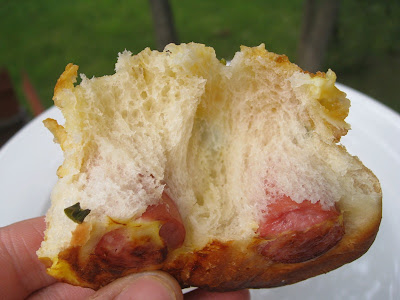 Tangzhong starter / Water roux starter (refer to Angies Tangzhong Starter)

50 g Bread flour
250 ml Water
Dough (B)

300 g Bread flour
1 tbsp Instant Active dried yeast
30 g Sugar
1 tsp Salt
1 Egg
65 g Warm milk
75 g Tangzhong Starter – Water Roux Starter via Starch Gelatinization
45 g Butter
Topping(C)

10 sausage(chicken or beef)
1 stalk Spring onions, chopped
1 Egg + 2 tbsp water for brushing
1 cup shredded cheese
1 small onion,peeled and sliced
3-4 tbsp Sesame seeds
Method:
A Tangzhong starter / Water roux starter:
1:In a bowl, whisk together the water and the flour until the mixture is well blended and lump free. Stir the mixture while it cooks over the medium heat to reach 65C/150F. It takes about 2-3 minutes.
2:Remove from heat and cover loosely with plastic wrap to prevent from drying. Store the starter in the refrigerator after after completely cooling down. To use the starter, measure out the amount called for in a recipe and let it warm to room temperature. Unlike sourdough starter, this special Tangzhong starter doesn't improve its flavour with age. So it's preferably to use up in 3 days.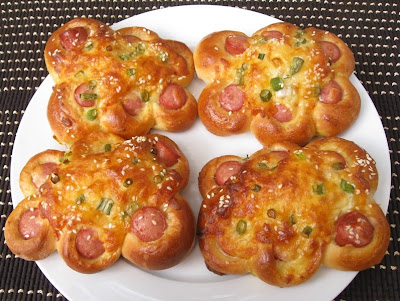 For dough: (please refer to Angies step by step method) I dump all the dough ingredients in breadmaker (BM) coz I'm lazy to knead.
1:Remove dough from BM and form the dough into a smooth ball. Place it in a lightly greased bowl, covered with a plastic wrap, and leave in a warm place until dough is double in volume, about an hour. Press the dough down to release gases produced in the fermenting process.
2:Divide dough into 10 portions, each is about 50-55 grams and round up and rest for 10 minutes at the room temperature.

3:Flatten each dough ball, with seam side down, and roll into a rectangle. The length of the dough should be the same as the sausage you are going to use. Now turn the seam side up, and place a sausage on the dough. Roll it up and cut into 5 equal portions, but DO NOT cut them through, leaving a thin joint between portions. Cross the first and the last joints, turn the cutting edges of 3 portions over to obtain a flower pattern. Place on a baking tray lined with a baking sheet and cover with a plastic wrapper. Leave to rise for 45-60 minutes.

4: When the buns have doubled in size, brush them with reserved egg mixture, then place some onion and scallion mixture atop. Finally sprinkle with some sesame seeds and shredded cheese.

5:Bake in preheated oven at 175C/350F for 15 minutes or until golden brown. When done, turn the buns onto a wire rack and let cool completely.
I store the bun in air tight container in fridge for a week,when I want to eat I just microwave for 30 second .The bun still retained softness and moist as it's just bake!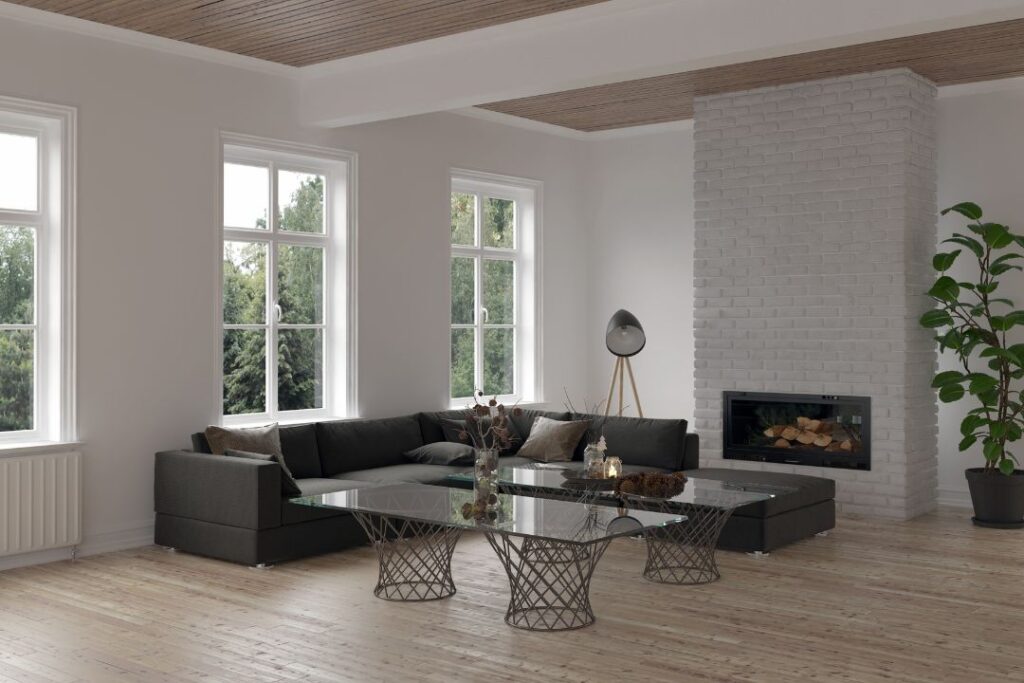 Are you looking to upgrade your living room furniture? Look no further! Our outlet store…